30 Aug 2019
If you're looking to retire in Spain, this stretch of sundrenched coast ticks all the boxes. But just where should you start your search to retire to the Costa Blanca? Sally Veall took a trip down the coast and has a few suggestions.
The Costa Blanca came top of our poll of where we want to buy in Spain, and it's not hard to see why. A balmy climate, plenty to do, easy to reach all year, new friends just waiting to be found…. A wonderful retirement awaits if you're ready to take the plunge. With 200 kilometres of coast – as well as a tempting hinterland – you're spoilt for choice at just about every budget.
Most people arrive at Alicante airport, handily placed at the centre of the 200 kilometre coast. It has flights from every corner of the UK, all year. So there's no excuse not to see the family regularly. There is also the option of flying into Valencia, one of Spain's most exciting cities right now, and travelling down. The ALSA Bus Company (part of National Express) runs services along the coast. Indeed getting to the Costa Blanca by train or car even from the UK is no great problem.
Driving north to south, here are few tips for friendly locations.

Finestrat - Benidorm
While the very north of the Costa Blanca is better known for permanent relocations and retirement, the central areas with the shorter airport transfers inevitably appeal more to tour companies. Which is why Finestrat or raely seems to figure on property guides. But why not? Benidorm is one of those places where the British love affair vwith Spain began, and we've been falling in love there ever since.
There is still a reason why it's one of the best known resorts in Spain. Though it caters for the tourist it is still a place to consider for retirement, especially if you enjoy hustle and bustle and all kinds of entertainment. There are shows, live music and nightlife to keep you busy, plenty of English bars and restaurants as well as excellent Spanish ones. All that hustle and bustle also offers work opportunities too. Nothing too hectic, but maybe a bit of property management or bar work to top up the pension?
Benidorm is ideal for the senior citizen as it has long promenades, easily accessible sandy beaches and a car free town centre. It's not a bad plan to escape the heat and crowds of summer while renting your place out for a fat profit during the high season too.
And when family do come to visit, there is so much to keep them occupied. Some of it is quite educational too! Mundomar is a theme park all about the natural world where you can see sea lions and dolphins amongst other creatures. Also head for Terra Mitica, one of Spain's largest theme parks, dedicated to historical cultures of the Mediterranean, Egyptians, Greeks, Romans, Iberians and so on.
El Campello
Just 13 kilometres north of Alicante, but easy to reach Benidorm too, is El Campello. It is altogether different from its larger neighbours. El Campello remains a quiet place with few high-rise buildings (compared to Benidorm anyway!) and it has a relaxed feel as you wander past some lovely historic facades.
The marina and fishing port are very attractive and you can enjoy the fish auctions held on weekdays. The Ruins of Illeta, on a small promentory below the watchtower which guards the port, are considered to be one of the Mediterranean's most important archaeological sites and 5,000 years' old.
There is a large expatriate population in the town – by no means all British. Even so, you won't need to do without your favourite things from the UK as there are some British shops in the neighbourhood. The town is well served by buses and trams, making visits to other nearby locations easy. Many people speak English and the town is rather flatter than, say Jávea.
Property prices are reasonable compared to further north.
Guardamar del Segura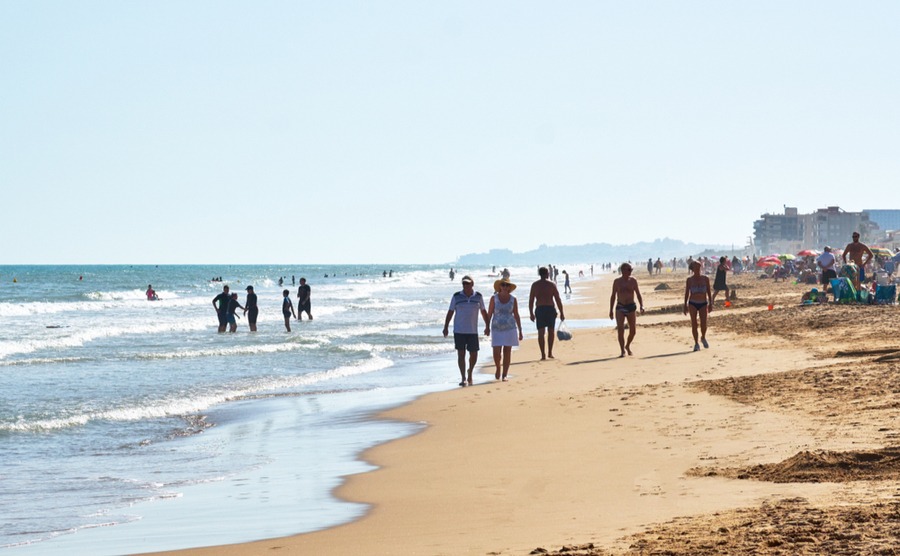 On the beach at Guardamar del Segura (Alex Tihonovs / Shutterstock.com)
Moving south from Alicante, we have all the usual expat favourites, such as Torrevieja and Campoamar.
Guardamar del Segura has 11 kilometres of coast to enjoy and eight beaches. Some feel very natural, made up of sand dunes backed by pine forests. That natural, peaceful feeling extends inland, with agriculture still contributing to the town's economy all year. It helps to ensure that the town feels alive all through the year. The 15,000 population includes a lively expatriate population too, and it's this combination of liveability and liveliness that put Guardamar del Segura into our top five.
For sporty people the town has three golf courses nearby and its sportscentre includes a heated pool open all year. With an average temperature in January of 16º and 300 days of sunshine, this might be the perfect place for your retirement. The town also has a medical centre with A & E open 24 hours a day.
Pilar de Horadada
Last on our tour, 68 kilometres south of Alicante is the town of Pilar de Horadada. It's right on the border where the Costa Calida takes over, but still just an hour from Alicante Airport. It's a bit of a hike by bus, but if you don't plan frequent trips back to the UK that can be an advantage.
Indeed it comes recommended in the region as the perfect place to retire for a slower and tranquil pace of life. Many of the town's beaches with white or golden sand are practically deserted most of the time. The sea here is considered very safe as the shelf falls slowly and flat and so there is no sudden drop a few metres from land.
Obviously you can forget frosty mornings if you move here, but you can probably abandon the umbrella too. The town receives the lowest amount of rainfall on the entire coast, just 300mm a year (about 12 inches, compared to 800mm in Bournemouth, for example). Such a dry climate makes it an ideal spot for people with joint and arthritic problems, with a bit of a sea breeze taking the edge off summer.
If your joints are so supple you're still into cycling, you're in luck! There are special tracks which extending 40 kilometres out of town and into the countryside, making it one of the region's most cycle-friendly places. Sailors and nature lovers will enjoy the lagoons called the Lagunas de Lo Monte, with several regattas during the summer months.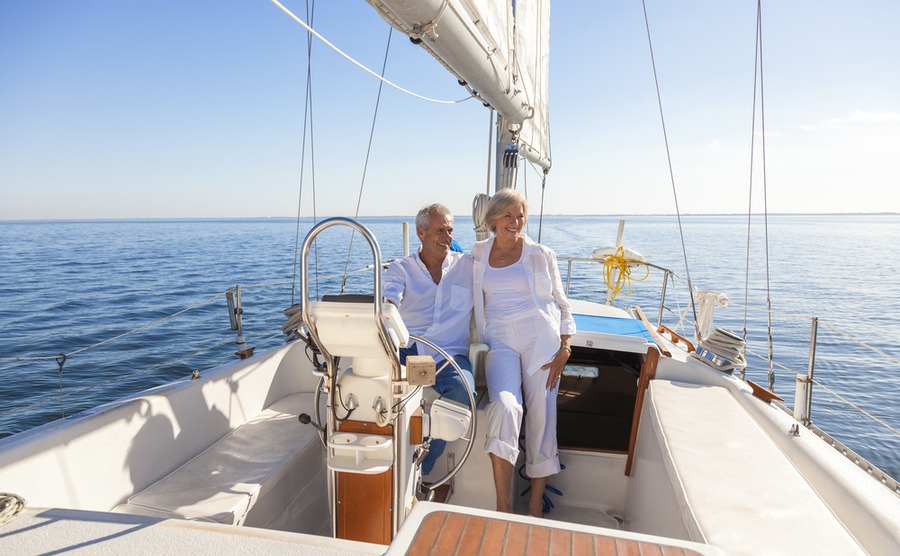 "Me time, at last." You've earned it!
Getting on
As we get older, life can throw up challenges, but retiring to the Costa Blanca will certainly be easier. For example, blue flag beaches, of which there are some 80 in Alicante province alone, are based not just on cleanliness but on ease of access too. That includes, for example, easier access for those with mobility problems. There are plenty of retirement communities too, and you will never be short of someone to speak English to.